For eight seasons The Charmed Ones used their "Power of Three" to enchant viewers on The WB's fantasy series Charmed. Using a variety of mystical powers, Alyssa Milano, Holly Marie Combs, and Shannen Doherty heroically battled evil beings for three seasons until a highly publicized cast shakeup resulted in actress Rose McGowan taking Doherty's spot in the coven for the remainder of the series.
While rumors about a possible Charmed reboot continue to swirl, no revival with the original cast is imminent. Until the Halliwell sisters reunite to once again cast a bewitching spell on audiences, you can enjoy these eight fun facts you probably never new about The WB's Charmed!
1. Alyssa Milano wasn't the first actress to portray Phoebe Halliwell.
Actress Lori Rom originally played Phoebe in the unaired pilot of Charmed. The video below features both Rom and Milano's performance as Phoebe, giving audiences an idea of what the series might have looked like without Milano.
2. The series certainly was charmed when casting its guest stars.
During its eight season run, an impressive roster of future superstars made guest appearances on The WB drama. Jon Hamm, Arrow star David Ramsey, John Cho, and five time Academy Award-nominee Amy Adams all popped up on the series.
Want one more surprise guest appearance? Here's a pre-crossbow Norman Reedus romancing Paige in a season five episode.
3. The relationship between the original three Halliwell sisters is based on creator Constance M. Burge's real life.
It's always important to write what you know! The youngest of three sisters, Burge drew from her own family dynamics when writing Charmed. Prue was modeled after Burge's eldest sister Laura; Piper was based on her real-life middle sister Edie, and Phoebe was loosely based on Burge herself.
4. Charmed's theme song has a history of appearing in mystical settings.
Before Love Spit Love's cover of The Smiths' "How Soon Is Now?" was used in the Charmed intro, it was featured in Neve Campbell's 1996 supernatural film, The Craft.
5. Producers initially pursued Tiffani Thiessen and Jennifer Love Hewitt to replace Shannen Doherty after the actress left the series.
Can you picture Tiffani Thiessen or Jennifer Love Hewitt as Piper and Phoebe's long-lost half sister Paige Matthews? Before Rose McGowan secured the role, Aaron Spelling and his execs pursued both Thiessen and Hewitt to fill the vacancy. If Thiessen joined the cast, it would have been the second time the actress replaced Doherty on a television series, as the former Saved by the Bell star famously joined the cast of Beverly Hills, 90210 after Shannen exited the show in 1994.
6. The Charmed production staff included a sly Mrs. Doubtfire shout-out in the pilot episode.
In Mrs. Doubtfire, Robin Williams' character creates the surname Doubtfire after seeing a newspaper headline that reads "Police Doubt Fire Was Accidental." We very much doubt that this prominently displayed newspaper headline from the first episode was "accidental."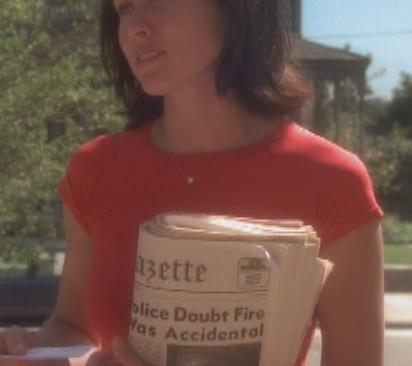 7. Kaley Cuoco had a difficult time with some of the stunts during her stint on Charmed. 
Before living across the hall from Leonard and Sheldon, Cuoco was cast as a young apprentice witch named Billie during the eighth and final season. But some of the stunts Kaley needed to perform on the supernatural series weren't easy for the new witch on the block.
"I thought it was going to be easy, but it wasn't. I got tangled in the wires so many times doing my flips I almost strangled myself," Cuoco said during a 2006 interview. "But I try, I try so hard."
8. The series lives on in comic book form.
While Charmed ended its eight season television run back in 2006, an officially licensed continuation of the series exists as a comic book. Picking up eighteen months after the final episode, Charmed: Season 9 was released back in 2010, followed by Charmed: Season 10 in 2014.
When's the last time you watched an episode of Charmed?