What a ride. While the 2014 Academy Awards may be in our rear view mirror, there's still some award show pageantry to look forward to — Oscar weekend photos! We scoured countless miles of Internet terrain to find you the very best Academy Award weekend pics from before, after and during the ceremony. Since it is better to show rather than tell, here are 20 amazing Academy Awards photos from Oscar weekend!
1. Don't worry, Kerry Washington finally got a slice of gluten-free pizza!

2. It's a Jennifer Lawrence Oscar tradition!
In Jennifer Lawrence's defense, that red carpet looked mighty icy. We're looking in your direction, cast of Frozen.
3. Idina Menzel's "glamorous" warm-up before her beautiful Oscar performance of "Let it Go."
4. Benedict Cumberbatch photobombs U2 on the red carpet.
Here is Benedict Cumberbatch photobombing U2: https://t.co/k9wT4eev2K—
Todd VanDerWerff (@tvoti) March 03, 2014
Have you seen Star Trek Into Darkness, Bono? DO NOT ATTEMPT TO RETALIATE!
5. Weird. We just assumed Pharrell's barber cut around the hat.
6. James Franco sure knows how to enjoy the Oscars, right?
7. Anna Kendricks enjoying a post-Oscar In and Out burger.
In & Out #Whoops http://t.co/uhzaTCzK7M—
Anna Kendrick (@AnnaKendrick47) March 03, 2014
8. Did somebody say Dallas Bros Club?
Jared Leto and Matthew McConaughey celebrate their Oscar victories!
9. Ellen DeGeneres in Gucci, I believe.
This may be @TheEllenShow's best look of the night. #Oscars http://t.co/vQ55LoYcDQ—
People's Choice (@peopleschoice) March 03, 2014
10. There's nothing quite like a celebrity pizza selfie party!
Best IG photos, Twit Pics & Photobombs of the #Oscars. bit.ly/1dTJKFd http://t.co/nuZ07enCWU—
Sway Calloway (@RealSway) March 03, 2014
11. Lupita Nyong'o celebrates her 31st birthday with Brad Pitt, Angelina Jolie and 12 Years A Slave cast!
12. There's always 2015, Liza.
You know the selfie everyone's talking about? Here's a shot taken from the back. Poor old Liza Minnelli! http://t.co/iC1JprvkaQ—
Joe Michalczuk – Sky (@joemichalczuk) March 03, 2014
Bell and Shepard are the unofficial winners of the Hollywood Couple We'd Most Like To Invite Over For Game Night Oscar.
13. Lupita Nyong'o's amazing Oscar acceptance speech.
"No matter where you're from, your dreams are valid." vult.re/1mZ5hCl http://t.co/L6PJybWbah—
Vulture (@vulture) March 03, 2014
14. Lady Gaga and Kelly Osbourne are bffs now.

And there's a nice cameo appearance by Elton John!
15. 23 Jump Street?
Look who I just found backstage. http://t.co/rp5Mt1sYsx—
Ellen DeGeneres (@TheEllenShow) March 03, 2014
16. For a supposed Catwoman, Anne Hathaway isn't very stealth in this Jessica Biel photobomb.
Backstage at the #Oscars in the #ArchDigestGreenRoom with @JessicaBiel photobombed by Anne Hathaway http://t.co/k3gusKxQ8o—
The Academy (@TheAcademy) March 03, 2014
17. Kristen Bell & Dax Shepard demonstrate the agony of defeat.
We lost http://t.co/lrqzYdFXS4—
dax shepard (@daxshepard1) March 03, 2014
18. Very excited we drafted Emma Watson and Joseph Gordon-Levitt with the first pick in our "Fantasy Hollywood Couple" draft.
19. Wait, you're not convinced that these two are unequivocally enchanting?
20. And of course we have to end this post with the record-breaking retweet shared around the world…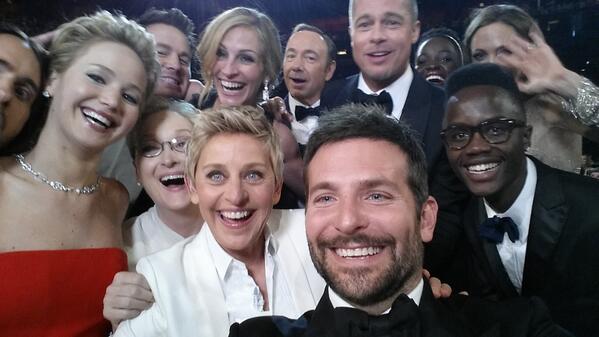 Share your favorite Oscar moment in the comments section!
Read More:
Oscars 2014: 5 Funniest Moments
Oscars 2014: See the 10 Best Dressed Stars and Grade Their Looks!
Oscars 2014: Here's Who Would Have Won if Fans Voted